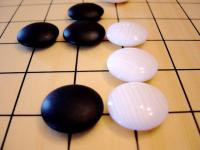 39th Paris Go International Tournament, from 23 to 25 April 2011
One of the biggest Go events in Europe, with over 200 players in attendance from over 20 countries. The best players in Europe will compete in Paris for the finale of the Pandanet European Cup 2010-2011, the end of the grand prix numbering over 20 tournaments spread all over Europe.
The organising team is aiming to bring you the very best tournament playing conditions in Paris. We want to strengthen your brain and mental health for your upcoming achievements this summer.
Yes, because for France, 2011 is the year of Go. The French Federation (Fédération Française de Go - FFG) is proud to invite you all to the 55th European Go Congress in Bordeaux this summer.